A konferencia második napja Di Cook plenáris előadásával indult az interaktív adatvizualizécióról a 800 fős nagyteremben, ahol a nap hátralévő részét is töltöttem. Számomra az egyik legemlékezetesebb előadást A. Jonathan R. Godfrey tartotta az BrailleR csomagról és arról, hogy nem látó felhasználók hogyan tudnak kommunikálni az R környezettel: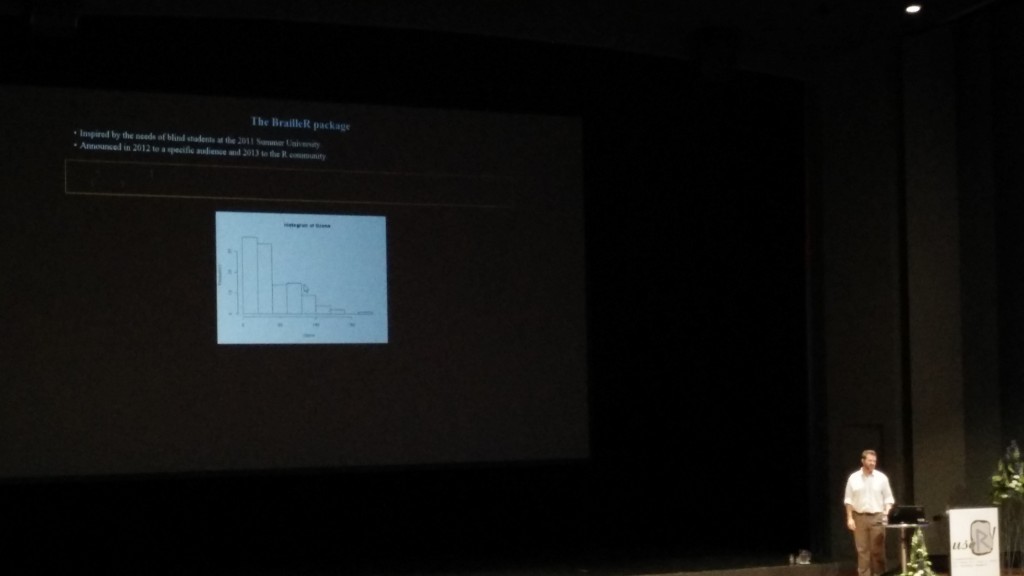 Majd a hazai R felhasználók számára a tavalyi R meetup és BI konferenciáról is ismerős Matt Dowle és data.table társszerője, Arun Srinivasan tartottak hasonlóan emlékezetes előadásokat:
Great news from @MattDowle of radix sorting & possibly integrating data.table in #rstats — would be great! #user2015 pic.twitter.com/4bciXFR0Qy

— Gergely Daróczi (@daroczig) July 2, 2015
My #useR2015 talk on 6 useful features for data wrangling with #rdatatable #rstats http://t.co/eTOdp4Ygr0 pic.twitter.com/LV7dOuQOsE

— Arun Srinivasan (@arun_sriniv) July 3, 2015
Ez a délelőtti szekció különösen izgalmas volt, mert még ugyanezen szekcióban Andrie de Vries adott elő a Revolution Analytics/Microsoft képviseletében a CRAN csomagjainak network elemzéséről.
Délután szó volt többek között a googlespreadsheet csomagról, amely Jennifer Bryan gondozásában nagyon egyszerű módon teszi lehetővé Google táblázatok olvasását és szerkesztését R-ből:
Why would an #rstats user want to use @google Sheet? Question answered in @JennyBryan's inspiring talk at #user2015 pic.twitter.com/86Lau3wa3B

— Gergely Daróczi (@daroczig) July 2, 2015
Jenny után Oliver Keyes következett a Wikimedia-tól, aki a CRAN csomagjait vizsgálta különbőző szoftverfejlesztésben standardként használt QA metrikák segítségével, amely előadást heves vita követett. Érdekességképpen megemlítem, hogy előadást laptop nélkül tartotta (amely sajnálatos módon elveszett a konferenciára való utazása közben), ill. jelenleg egy általános Google Drive R csomagon dolgozik. Az adatvizualizációs szekciókra sajnos nem jutottam el, de annál nagyobb öröm volt újra hallani Csárdi Gábort a nagyon izgalmas METACRAN projektjéről, amely fejlesztése remélhetőleg a továbbiakban is hasonlóan lendületesen zajlik majd:
METACRAN demo at #user2015 by @GaborCsardi, one of the most exciting #rstats projects going on http://t.co/iMkl6QzwMH pic.twitter.com/BGVi4tJNm5 — Gergely Daróczi (@daroczig) July 2, 2015
Utoljára a Vestas képviselője beszélt arról, hogyan big data problémáik megoldásában hogyan használják az R-t, és még volt lehetőségem bepillantani a grid-guru Paul Murrel előadásába is, ahol egy elég zsúfolt teremben kiderült, hogy a gridGraphics csomag segítségével egyszerűen alakíthatunk base/graphics ábrákat grid formába: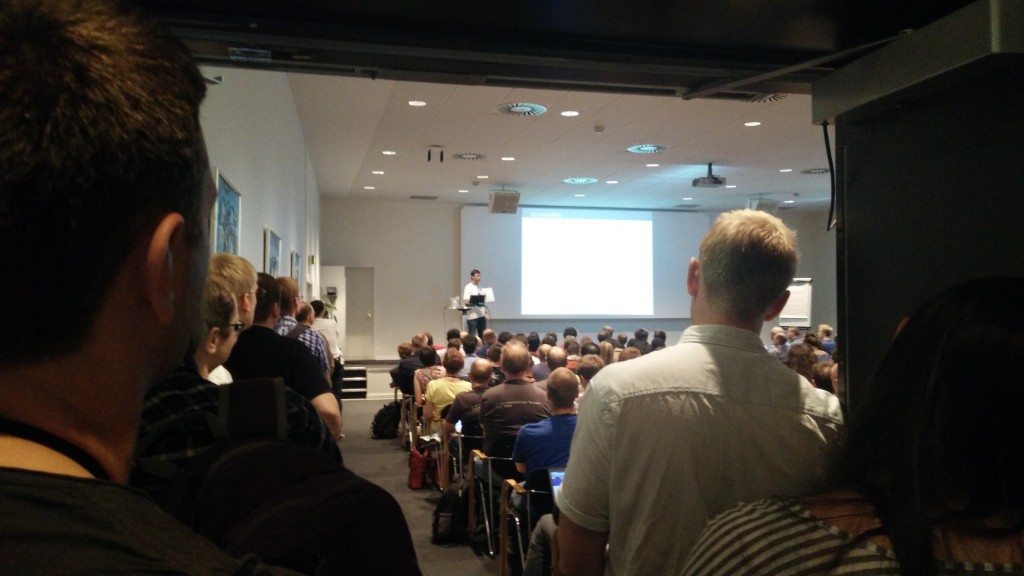 Utána kihagytam a hivatalos konferencia-vacsorát, és Tajti Andrással egyetemben alternatív networking lehetőségekkel éltünksöröztünk többek között Matt Dowle és egy H2O fejlesztő társaságában. Holnap a konferencia záró napja!