A useR! konferencia az R programozasi nyelvvel kapcsolatos rendezvenyek legfontosabb esemenye, amelyet eves valtasban hol Europaban, hol az Egyesult Allamokban rendznek meg. Iden a Stanford egyetem biztositott helyszint a minden idok eddigi legnagyobb R-es konferenciajanak: a vilag minden tajarol 800 fo regisztralt a 4 napos rendezvenyre — amely szam csak azert nem magasabb, mert mar aprilisban lezarult a regisztracio helyhianyra valo tekintettel.
A konferencia elso napja, szokas szerint, tutorialokkal indult: delelott es delutan is egy-egy 3 oras workshopon vehetett reszt minden latogato. A valasztas nem volt egyszeru: GIS, git, Shiny, data.table, H2O, spark, Rmarkdown es tovabbi mas izgalmas temak kozul vegul Erin LeDell machine learning "deep dive" eloadasara ultem be (a lepcsore — mert mashol mar nem volt hely):
Happy #rstats and @h2oai Monday! Learning ML models at the first #user2016 talk from @ledell https://t.co/iEzic9jhMD pic.twitter.com/Xd3UofyecH

— Gergely Daróczi (@daroczig) June 27, 2016
Az eloadas deep learning resze kellemes emlekeket ebresztett bennem a masfel evtizeddel ezelott megjelent Bug Brain jatekrol 🙂
The #MachineLearning & #deeplearning workshop @ #useR2016 reminded me to play BugBrain again https://t.co/ZT2pD8BhJP pic.twitter.com/031jSw0ybN

— Gergely Daróczi (@daroczig) June 27, 2016
Delutan az "effective shiny programming" workshopot latogattam, de sajnos csak az elso felen tudtam reszt venni, ugyani 3-tol kezdodott az R Consortium negyed evente esedekes "Birds of a feather" megbeszelese, amelyen a satRday projekt egyik szervezojekent orommel vettem reszt tobbek kozott John Chambers (R Foundation), Hadley Wickham (RStudio), Louis Bajuk-Yorgan (TIBCO), Karl Millar (Google), Dinesh Nimal (IBM), elnoksegi tagok, tovabba Csardi Gabor (R-hub), Richie Cotton (R honositas), Nick Carchedi (DataCamp) es a Linux Foundation kepviseloje mellett. A megbeszeles egyik kozponti kerdese volt, hogy tovabbi szervezetek miert erezhetik indokoltnak a konzorciumhoz valo csatlakozast.
Ezt kovetoen az R Consortium nagyobb nyilvanossagot kapott, es Joe Rickert a konferncia legnagyobb eloadojaban arrol szamolt be, hogy a konzortium milyen projekteket tamogatott, ill. milyen tervek varnak megvalositasra a kozeljovoben. Kiemelte, hogy a tamogatando projektek DEADLINE AT TODO. Nagy oromomre szolgalt, hogy a slide-ok kozul egy kifejezetten a satRday projekttel foglalkozott: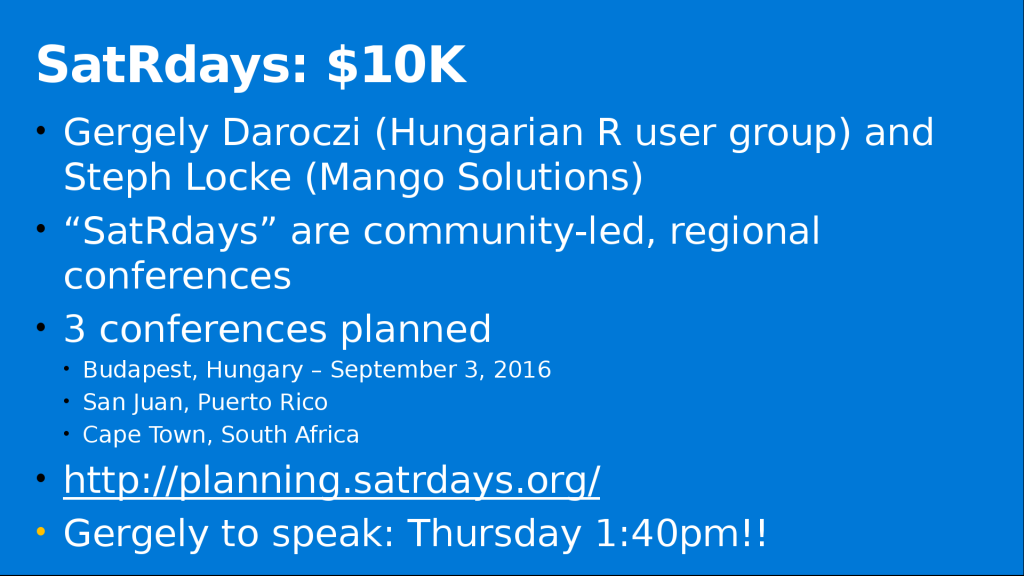 A mai nap vegul a Women in R task force es R-ladies prezentaciokkal zarult, ahol orommel szamoltak be a mar elert sikerekrol (SF: 700, London: 400 fo par honap alatt) es tovabbi tervekrol (NY):
@RLadiesLondon got me all inspired.#rstats #useR2016 pic.twitter.com/VgoYro4fbt

— SanghaChick (@SanghaChick) June 28, 2016
Utana soroztunk, holnap pedig folyt. kov.