Az utolsó nap többnyire a szponzoroké volt, de meglepő egészen kellemes szekció volt érdekes, és kevéssé marketingszagú előadásokkal.
Why the rune R! on the @user2015aalborg t-shirt by Peter Dalgaard pic.twitter.com/MsFqEiRlKQ

— useR! 2015 Aalborg (@user2015aalborg) July 3, 2015
Volt szó a Revolution Analytics Microsoft általi felvásárlásáról, a nemrégiben hivatalosan is bejelentett R Consortium megalakulásáról,  de az RStudio újdonságairól (pl. hogy még továbbra sem profitábilis a működésük), a HP distributed R programjáról és hogy a HP alkalmazottak miért nem kapnak ingyenes nyomtatópatront, a H2O agilis csapata élőben demózott, és a plenáris előadások keretében megtudhattuk azt is, hogy a statisztika mennyire egszerű (statisztika professzoroknak). De beszéljenek inkább az alább képek:
It was great to meet several developers from the @h2oai team at #user2015 and see some demo, keep up the great work! pic.twitter.com/zHP80qc5L6

— Gergely Daróczi (@daroczig) July 3, 2015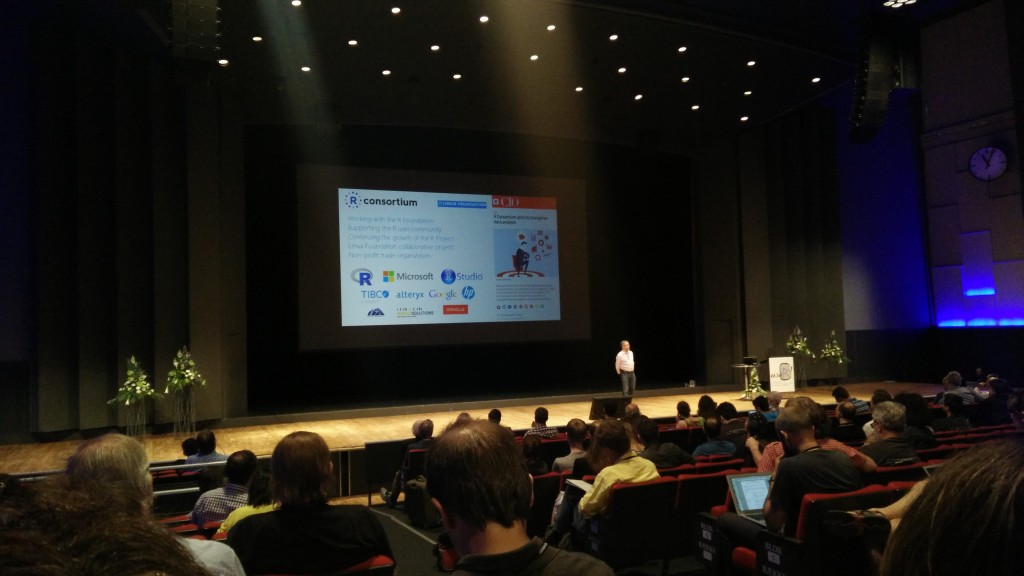 "And it turns out to be ridiculously easy" — last plenary talk at #user2015 by Steffen Lauritzen pic.twitter.com/TYOiHSKjDD — Gergely Daróczi (@daroczig) July 3, 2015
Összességében egy remek konferencia volt, gyorsan elrepült az idő vasárnap este óta, sok online (GH, SO, Twitter) ismerőssel találkozhattam élőben, és nagy öröm volt látni az nemzetközileg egyre fokozódó érdeklődést az R iránt.
Találkozunk jövőre a Stanfordon, bővebb beszámolóval pedig élőben, a következő R meetupon jelentkezünk 🙂